| | | |
| --- | --- | --- |
| | Ready to become a hockey expert? Take this coaching program. | |
Expand your hockey IQ

Our hockey coach training program is useful for both newbies, and veterans. Full of hockey terminology, tactics, systems, and theory, as well as quick on ice videos this course will help you master your hockey understanding quickly.

Realize your potential

Subtleties in game understanding and tactical execution at high speed can make all the difference, but hockey doesn't have to be complicated.  We break the game down step by step.  While the bulk of the course is tactical, we have added skill tip tutorials and podcast interviews with some of the best coaches in the game.

Around the clock access

Our hockey coach training program has helped coaches and players around the world.  Learn the game whenever and wherever you want. Our 2.0 reboot is mobile and tablet responsive and our database is open 24/7 so you can master the game of hockey on your schedule. Binge watch it in a day, or chip away over an entire season.  Check back regularly as we add interviews from Stanley Cup and Olympic winning coaches and more!
| | | |
| --- | --- | --- |
| | How to Play Hockey Member Testimonials | |
"The modules are easy to understand and follow. In order to maximize ice time, girls on my team are requested to watch selected modules in advance of a practice so they understand the concepts for a given practice. This allows the coaches to use the ice time efficiently and also, to allow the girls to ask questions in advance if they don't understand. I would highly recommend use of this website."

Dean Readman


Coach Vancouver Angels Girls Hockey Association
"I was working with the Romanian National Team programs under your mentors Bob Caldwell and Andy Murray.  Canada is the best in the world, I like to learn from the Canadian coaches.  I have finished your course and have analyzed and made notes on every video. The videos are very helpful.  Coach Farkas, Romania"

Csaba Farkas Levente


Program Director and Coach, Romania
"Your video content is absolutely top notch.  You clearly have a passion for the game, a passion for coaching, and (most importantly) are a great teacher who knows how to break things down into simple bite size chunks that are core points to work around with a team, and translate well to the ice (and dressing room). Keep up the good work! I coach my son's Atom House League team in Ottawa. This is my second year as head coach as your videos have been a huge help."

Coach Russell Warren


Nepean Minor Hockey Association house level coach
"I just became a member of your How to Play Hockey website. I have finished module one and am learning so much! I really like your chalk talk style videos. I think it's great that each video clip is short, sweet and to the point. Each point is explained very clearly and is very easy to understand. I love hockey and want to play to the best of my potential and I think that your website curriculum will be my best tool ever for improving my game!! Thank you so much for creating this awesome site!!"

Nikki Caswell


Adult recreational player, Whistler, BC
"As prep for the most recent team practice the coach had the girls review three of your videos in advance so that all the girls would know and understand the hockey skills they would be practicing and would all be able to move to the practical application of the skills on ice more quickly. It worked well! I am confident that the girls learned the Overload technique and the two others much more effectively as a result of using the tutorial videos.  I have reviewed the overall package and it is very impressive; I know it will help our girls and coaches to be more successful and have a better hockey learning experience."

Rob Gilfoyle


Father, Vancouver Angels Female Hockey Association
"Most of my early experience was with the younger ages and I always believed in teaching skills and not systems.  As I moved up to coach older players (boys and girls) I found that I had a hole in my knowledgebase and team planning.  I started using your site last year and it was a big help in educating me on how to better teach and explain things like forecheck, cycling, d-zone coverage and other team concepts.  Keep up the great work."

Ed Rodham


Youth hockey coach, Connecticut
"I'm working through Module 2 and I want to tell you how much I like this course.  I feel very lucky to have stumbled upon it!"

Deidre Larson


Adult rec player, Alaska
"My son became a member about two months ago. He finds your presentations very understandable. I went through the videos and like them. I would like to see you make more!"

Charles Belich


Hockey father, Hibbing, Minnesota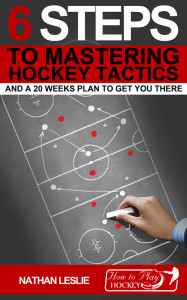 Bonus Offer
Enter your email above to get the exclusive hockey tactical video on 'Defensive Zone Coverage' and we will also give you this free season plan: 6 Steps To Mastering Hockey Tactics.
How to Play Hockey is influenced by world renowned coaches and breaks down the game from A to Z like no other resource on the internet or live event.
The How to Play Hockey coaching program is a proven asset for coaches and players, designed to help you become an expert.
100+ technical and tactical video lessons help you master the game following our 20 week season plan to mastery. Don't want to wait that long? Binge watch the entire course in a day and in no time you will be realizing your potential.
Work through six comprehensive modules breaking down all 3 zones with and without the puck.  We provide important on ice skill tips, and dive into multiple system options of both penalty kill and powerplay.  You will master the most important fundamentals and terminology.
Module 1: Hockey Terminology
Module 2: Defensive Zone Hockey Tactics
Module 3: Neutral Zone Hockey Tactics
Module 4: Offensive Zone Hockey Tactics
Module 5: Specialty Team Hockey Tactics
Module 6: Hockey Skill Tip  Videos
Module 7: NEW BONUS MODULE: Podcast Hockey Coach Interviews including Mike Johnston, Ryan Walter, Barry Smith, Rich Sutter, and many more...
Nate Leslie is a former professional hockey player turned hockey development guru. Nate has a Masters Degree of International Education from Endicott College in Madrid, Spain, speaks German, Swiss German, & French, and played 7  years of professional hockey in Europe.  Nate is the owner of Leslie Global Sports and the Director of the West Coast Hockey Prep Camp. Nate Leslie has helped develop countless young players and this year alone he will oversee the training of 1900 players. Nate resides in Vancouver with wife Tara and their 2 children.  Nate instructs multiple hockey academies and is the on ice director of the Richmond Olympic Oval High Performance Hockey Program and mentors coaches, and implements skill development programs with minor hockey associations.
Nate and brother Boe have recently completed a documentary, funded on Kickstarter, of their coaching development initiative in Mongolia, and join the New Zealand U16 National Team coaching staff in annual development camps.
After 4 years of Junior hockey Nate played 7 professional seasons in Europe and North America including the Swiss Elite League, British Super League, and the Central Hockey League.  Before moving to Vancouver in 2008 Nate spent 4 years in New York City building a hockey program in West Harlem and was the Athletic Director in the prestigious Manhattan boarding school, the Saint Thomas Choir School.
Forever a student, Nate Leslie continues to work with hockey minds, bringing in the likes of Mike Johnston, Barry Smith, and Rich Sutter. How to play hockey was formed by combining Nate's worldly hockey experience, and hockey development expertise, and ensures that you hit your potential.